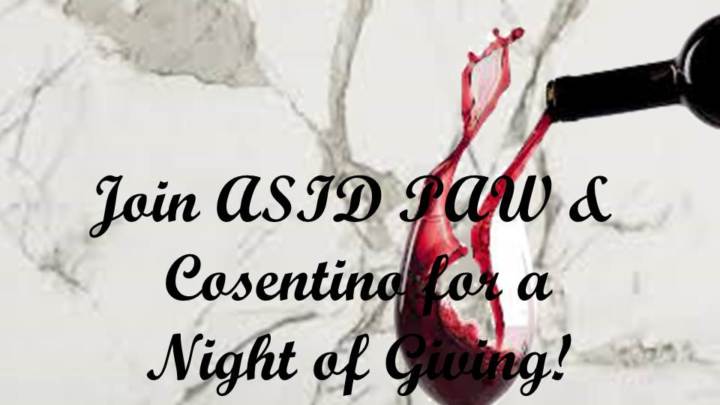 Description
This year ASID PA West is partnering with Cosentino to host the First Annual "Night of Giving." We are extremely excited about this event because not only is it going to be at an awesome venue with lots of opportunity for socializing and networking with great people, it is one of the events where all proceeds will go to the ASID foundation (Please see below for information on the ASID Foundation).. The ASID Foundation is working to build a strong, highly-educated, and socially conscious design community. The foundation is dedicated to providing the resources and tools necessary to grow the interior design profession through scholarships, research and education with the support and donations of members like you!

We are moving the Chinese auction that was originally done at the annual holiday luncheon, to this event and are hoping to have great success. So if you are interested in donating a basket/ giftcard/ or gift of some kind, please reach out to: president@paw.asid.org

We are thrilled to announce that the grand prize is going to be a trip to Spain! Cosentino and ASID PA West will both be donating a combined amount of $1000.00 to be raffled off towards airfare to Spain. As you may know, Cosentino's headquarters is in Spain. Once in Spain, the winner will be fully hosted by Cosentino with all expenses paid by them. Along with selling tickets for a trip to Spain, we will also be selling $5.00 chance auction tickets for the rest of the auction items. Each ticket will have 20 chances.
ABOUT ASID FOUNDATION:
"ASID advances the profession and communicates the impact of interior design to enhance the human experience."
As a part of the design community, we have all heard or said the above statement in some form. Design is our passion and it is important for our clients and neighbors to know what it is that we do. Someone who helps us do just this is "The ASID Foundation." They work hard to advance the profession and communicate the impact of interior design through research, scholarships, and education. Some examples of each are below:
RESEARCH:
Projects focus on the business, impact, and practice of design. They span design career stages, space types, and topic areas.

SCHOLARSHIPS/ GRANTS:
The ASID Foundation has a number of annual scholarships and grant opportunities available to expand research and knowledge around the impact of interior design on behavior, health, and well-being. Two newer opportunities include the Daltile Interior Design Scholarship and the Transform Grant.

EDUCATION:
ASID offers its student members many opportunities to grow and be recognized. Examples include the portfolio competition, student chapter of the year award, Scale, and much more.